Facilitation
Facilitation
Ruth is an experienced Facilitator, as well as being qualified to teach in Post-compulsory Education.  She has a background in education, having taught at both College and University level.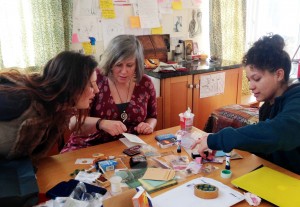 Ruth has completed a training with with PYE Global (Art of Facilitation) http://www.pyeglobal.org/. in the Creative Community Model, utilizing arts-based activities that promote personal growth, self-esteem, deep connection and process. 
To date she has completed several Artist Residencies working alongside children, adults and people with Learning Disabilities.  One of these residencies led to Ruth going on to work with the award winning Oxford-based charity My Life My Choice http://mylifemychoice.org.uk/  for twelve years, six of which were spent co-ordinating and facilitating self-advocacy groups across Oxfordshire.
Ruth currently continues to facilitate three of these Groups on a monthly basis.  Other workshops include working with children at the Oxford Literary Festival, residential retreats in Applecross, Scotland http://eaglerockscotland.com and with the Oxfordshire charity, Yellow Submarine.